York Security's Senior Officer Shawn Banks has been quietly supporting youth in the Raleigh area for years now, and he has no plans to slow down.  Officer Banks is the owner, head coach, marketing manager, procurer of funding, emergency transportation provider, team psychologist, and more, for a youth basketball program called Team Raleigh.
The program is a registered member of the AAU Basketball League (one of the largest, non-profit, volunteer, sports organizations in the US).  It provides a space for youth to play basketball in the off-season, continue to develop their skills, and even compete in high-profile tournaments.  You can hear the pride in Shawn's voice when he talks about "his kids," rattling off names of youth who have moved through his program and on to college teams.  He says that recruiting isn't too difficult, as he uses word-of-mouth and seeks referrals from existing players to fill spaces when the older kids move on.  He holds try-outs just like any other sports program would, and when their season is in swing he schedules practices twice a week to help them get ready for tournaments.  Last year, his teams played in 17 tournaments!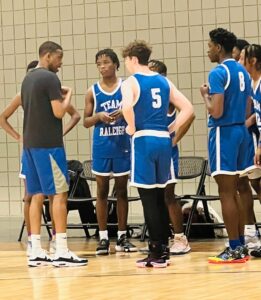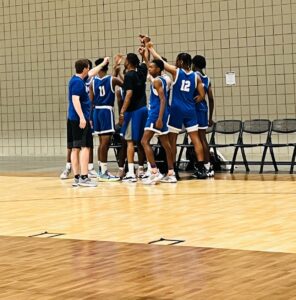 In addition to devoting a great deal of his time to this program, Officer Banks invests a lot of his own money as well.  Just like other AAU teams there is a fee to join. Shawn makes it clear, however, that he doesn't want cost to prevent an interested youth from participating. Instead of requiring a lump-sum payment up front he actively works with families on monthly payment schedules. And he tells us that he purposefully ensures that his team's fees are lower than most other AAU teams.  So far he has been able to supplement player's fees with private donations, most of which come from family members of the team.  Recently however he has begun working on creating sponsorship opportunities for companies in an effort to help cover costs for things like practice facilities, jerseys, and traveling to tournaments.
We are incredibly proud of Officer Banks and his involvement in our community!