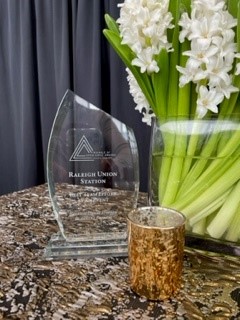 On Tuesday, March 8th, Raleigh Union Station was presented with a NACE Triangle of Excellence award for "Best Team Event" for our Palm Springs Event Planners Brunch.
The event was produced by our event staff and the City of Raleigh.  We are very excited to work with so many industry pros including:
Fresh Affairs  ·  C&D Collective  ·  Aneesa Glines  ·   CE Rental Raleigh  ·  Alyssa Ruth  ·  Arie Corin Events  ·  Kelli Ranck Harrison  ·  McCormick Creations & Co.
The awards gala was held at Raleigh Union Station and our RUS Events Manager, Karen Clymer, was there to accept the award.