York just completed its 110th year in business, solidifying us as one of the oldest companies in the Research Triangle region and certainly the oldest commercial real estate company. And, since we can't comprehensively fact check the "oldest" claim (although Our State Magazine profiled the oldest 100 NC family businesses in 2017 and it checks out), we challenge any other locally-owned and operated CRE firm in the Triangle to debunk our claim!
In honor of this milestone, we thought it would be fun to take a look back at Raleigh in 1910 when Charles Vance (C.V.) York relocated from Greenville, NC to hang his shingle in the yet-to-be founded Research Triangle region.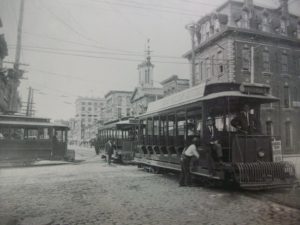 Trolley at Fayetteville and Martin Streets
First a quick history lesson:  Raleigh was founded in 1792 near the geographical center of the state on the Joel Lane plantation. Lane's house was a popular stop for travelers, so the entrepreneurial Lane built a tavern and a church to cover all needs. This precursor to Raleigh was known as Wake Courthouse or Bloomsbury (also the name of our landscaping division!).
By 1910, Raleigh was modernizing and growing into a veritable city:
19,218 residents lived in Raleigh and the city encompassed 4.026 square miles. Durham's population was slightly smaller at 18,241 residents.
Not only well-placed as the center of NC, the city was also marketed as the midpoint between Boston and New Orleans; NYC and Jacksonville; Quebec and Miami – "equidistant between the icebergs and the palms."
The North Carolina State College basketball team, known as the Red Terrors, had a bull terrier mascot named Togo and was a huge source of pride.
14 blocks downtown were paved with asphalt that year.
Raleigh was already an educational center boasting "..a larger school population in proportion to its total than any other place in the country and.. no fewer than twenty-nine educational institutions of all degrees" including:

The above-referenced North Carolina State College (now university)
Two historically black universities: Shaw University, the oldest HBCU in the South, and St. Augustine's University. NC Central University in Durham was just being founded this year.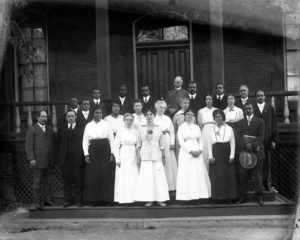 Shaw University Faculty
Three women's colleges: St. Mary's College (now St. Mary's Highschool), Peace Institute (now William Peace University) and Meredith College (renamed in 1909 from Baptist Female University) at the corner of Edenton and Blount Streets.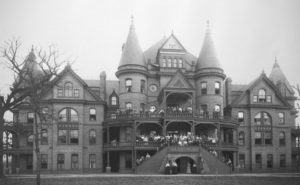 Baptist Female University/Meredith College
The Raleigh Electric Company Power House on Jones Street was constructed that year. Little did C.V. York know that his descendants would purchase the Powerhouse Square in 2014 in a joint venture.
The Masonic Temple Building (133-135 Fayetteville St, NE corner of Hargett) had just opened its doors, becoming the first reinforced concrete skyscraper in NC. The building now houses a First National Bank branch and offices.
Raleigh's elites were planning the Raleigh Country Club (now Carolina Country Club) and "one of the finest golf links in the South."  C.V. York would construct the Clubhouse which opened in 1911.
Carolina Power & Light's Bloomsbury Amusement Park was under construction at the end of the trolley line on Glenwood Avenue. The 100-acre amusement park, opened in 1912, was built to promote use of the company's electric trolley and electricity, and was brilliantly lit by 8,000 bulbs.  Its original carousel is still in use at Pullen Park.
A self-proclaimed "City of Opportunity," Raleigh was already attracting young, smart entrepreneurs like C.V. York from smaller NC towns to build their lives and businesses.  Now on the fourth generation of York leadership, York Properties continues to grow its business based on the bedrock values of excellent service, integrity and community engagement.
Sources: "Raleigh: a City at the Crossroads, 1914"; Alumni News NCSU; "Charles V. York – Builder and Entrepreneur," by Terry Henderson; Meredith College Timeline; City of Oaks by David Fleming; National Park Service "Raleigh: A Capital City"